Archives by date
You are browsing the site archives by date.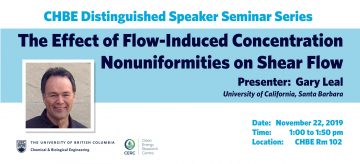 Date: November 22, 2019 Time: 1:00 – 1:50 pm Location: CHBE Room 102 The Effect of Flow-Induced Concentration Nonuniformities on Shear Flow ABSTRACT In this talk, we begin by reviewing prior work from our group on the instability of simple viscometric (shear) flows, due to the coupling between stress and concentration in entangled polymer solutions. […]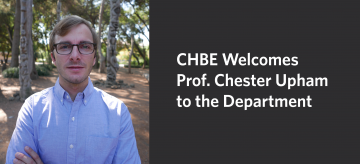 The Department of Chemical & Biological Engineering is pleased to announce Dr. Chester Upham will join the faculty as Assistant Professor January 1st, 2020. Dr. Upham holds a bachelor's degree in Chemical Engineering from McGill University and a Ph.D. in Chemistry from the University of California Santa Barbara where he studied under Eric McFarland and […]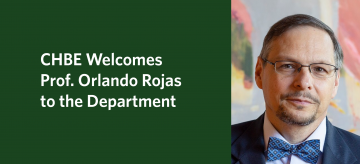 The Department of Chemical & Biological Engineering is pleased to announce that Dr. Orlando Rojas will join the Department of Chemical and Biological Engineering as Canada Excellence Research Chair (CERC) in Forest Bioproducts, with shared affiliation in the Departments of Chemistry and Wood Science. He comes to UBC from Aalto University in Finland, where he […]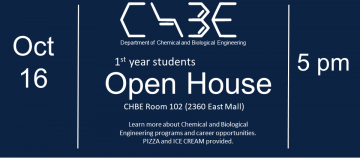 All first-year engineering students are invited to attend the CHBE Open House. When: Wednesday, October 16th – 5:00 pm Where: CHBE 102 (2360 East Mall) Learn more about Chemical and Biological Engineering program and career opportunities. Pizza and ice cream provided!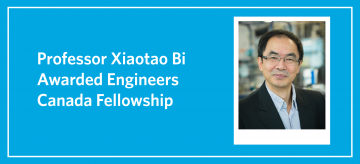 Congratulations to Professor Xiaotao Bi on being awarded a Fellowship with Engineers Canada. The Engineers Canada fellowships honour individuals who have given noteworthy service to the engineering profession through their work with either Engineers Canada or its provincial and territorial engineering regulators.  Dr. Bi has been a long-time volunteer with EGBC as a member of […]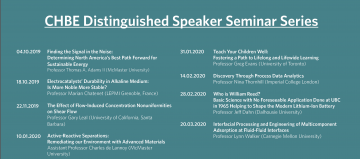 The department is pleased to announce the 2019/2020 CHBE Distinguished Speaker Seminar Series, co-sponsored by the Clean Energy Research Centre. We hope to see you there!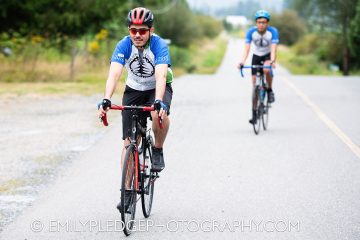 Naoko Ellis, Bill Cheng, Saad Dara The seventh annual Ride for Clean Energy, benefiting the Tyler Lewis Clean Energy Research Foundation, took place on August 10th, 2019. The 51 riders participating in this year's ride included nine CHBE students, alumni and faculty. Riders started and ended in Maple Ridge, completing a 65 km scenic route […]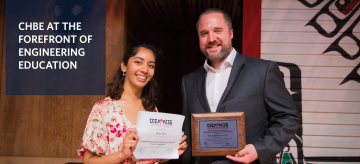 CHBE faculty member Dr. Gabriel Potvin and CHBE student Ashna Misra recently represented CHBE at the Canadian Engineering Education Association (CEEA) conference in Ottawa, ON. Both were recognized with awards at the conference, with Misra receiving first place for her poster, and Dr. Potvin receiving the Ron Britton Engineering Education Vanguard Award. Misra graduated […]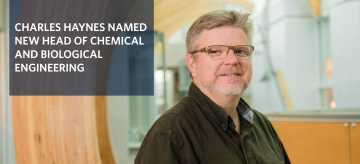 On July 1, 2019, Dr. Charles Haynes succeeded Dr. Peter Englezos as the new head of the UBC Department of Chemical and Biological Engineering. A UBC chemical and biological engineering professor, associate director of Michael Smith Laboratories and Canada Research Chair in Interfacial Biotechnology, Haynes co-founded both the UBC Centre for Blood Research and what is […]